Braided Pesto & Walnut Bread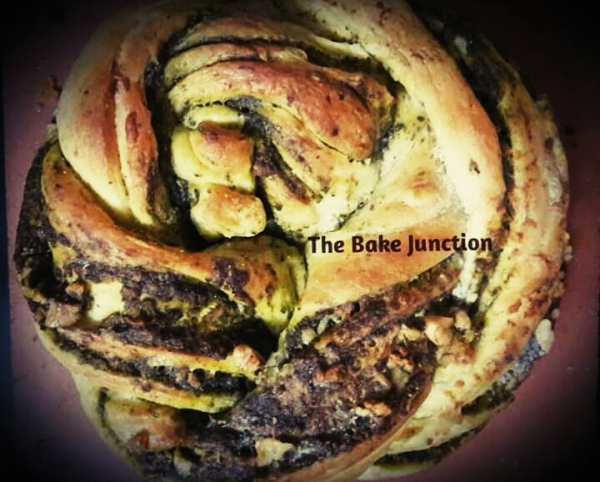 Formula by Featured Instructor Pritam Hemnani – All rights reserved worldwide
This post will be available to the public for two weeks and thereafter only available to members of The Baking Network.
Pesto Paste:
25 g sweet basil leaves
35 g cashew nuts
60 ml cup olive oil
5-7 medium sized pods of garlic
Salt to taste
I store the Pesto in a clean glass jar and top it with 2 tbsp/30ml of olive oil. Stays good in the refrigerator for 3 to 4 days or can be frozen for 10 days. Thaw in fridge overnight when you need to use.
I do not add cheese to my Pesto. The cashew nuts give it a creamy texture.
You can use store bought pesto as well for this recipe.
Braided Pesto & Walnut Bread
Ingredients:
250 gm all purpose flour
3 g instant yeast
180 ml of milk
60 ml melted butter
13 g sugar
5 g salt
50 g Finely chopped walnuts
30 ml of milk or egg wash (for glaze).
Making the Dough:
Warm the milk and butter slightly. Mix together all the ingredients except the butter and knead the dough.
The dough will be very sticky at first, but keep kneading for 8-10 mins until it becomes very smooth and soft.
Start incorporating the butter slowly after the initial 5 mins when kneading the dough.
After kneading for 8-10 min the dough will become supple, soft & will stop sticking to your hands or bowl.
Place the dough in a well-oiled bowl for 1.5 to 2 hours to rise and double in size.
Cover the bowl with a damp cloth and place in a warm corner of your kitchen to allow the dough to rise.
Once the dough has risen and doubled in size, punch it down and knead for 2-3 mins.
Braid the Dough:
Flour the surface and roll into a rectangle of 1 to 2 cm thickness.
Leaving about half an inch from all 4 sides, apply the pesto paste and spread the walnuts evenly. You can also add some grated cheese if you like.
Now roll into a log from the longer end of the rectangle. Be gentle to ensure there are no tears.
Make sure the sides are properly sealed and the end of the log is also properly sealed.
Cut the log along the length holding it gently.
Start braiding the 2 pieces by entwining them into each other. You can seal the ends together and then make the end meets in a circle.
Place this circle in a 7 in round pan which is greased or lined with parchment.
Proof by keeping this aside covered for around 30-45 mins.
Give an egg or milk wash and bake in a pre-heated oven at 200C/392F for 30 mins or until nicely browned.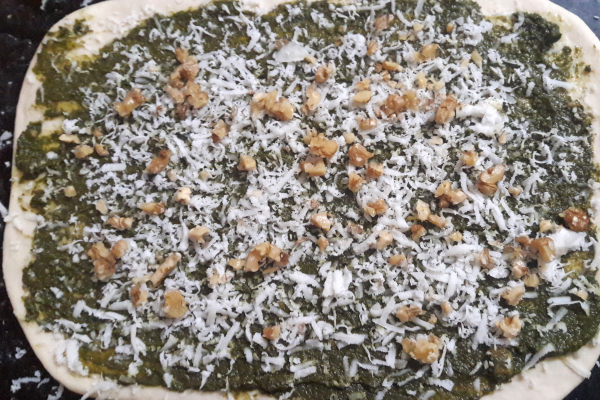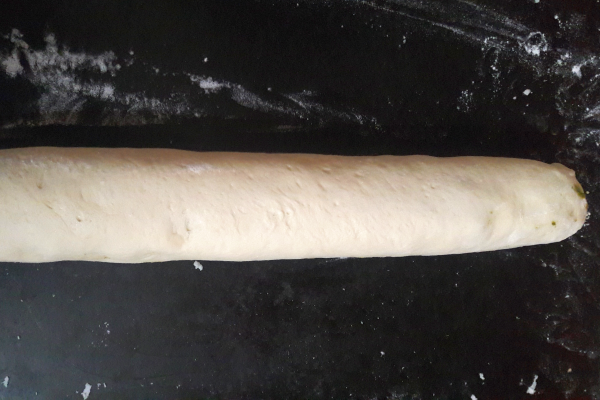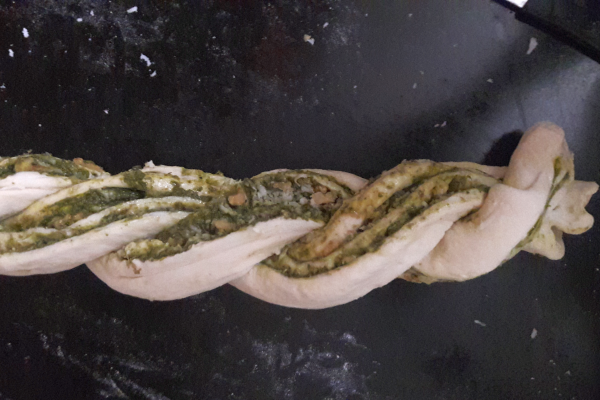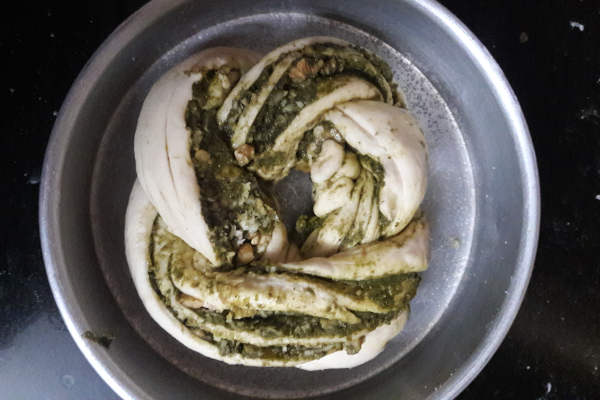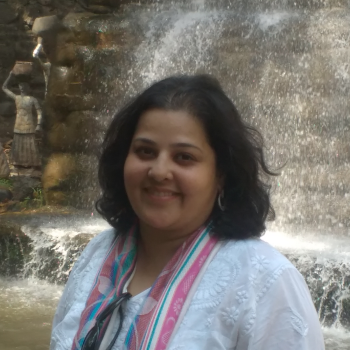 You can find Pritam on Facebook: www.facebook.com/thebakejunction
Instagram handle – @thebakejunctionpune