Onion Cheese Batter Bread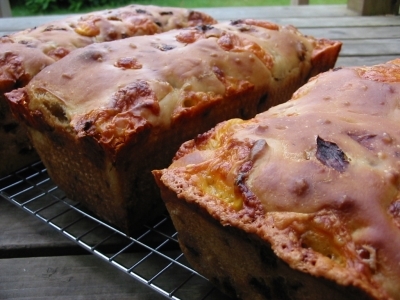 This bread smells so good when it is baking, that you will have family members hanging around the kitchen. This is an easy to bake batter bread. Check the options below before mixing. This recipe makes approximately 3 lbs 13 oz/ 1729 grams of a batter like dough. Enough to bake 2 loaves.
NOTE: This is an older formula from 2006 and is featured in my book, "Discovering Sourdough" volume 1. I was using a very wet starter then at 166% hydration. That is when you mix the same volume of water and flour instead of the same weight (like 1/2 cup water and 1/2 flour). See how to convert your starter below:
Convert your 100% hydration starter to 166% easily by: Combine 191 grams of starter at 100%hydration and 63 grams of water, you will have approximately 1 cup/ 9 oz of starter at 166%.
ONION CHEESE BATTER BREAD
All rights reserved worldwide 2006 Teresa L Greenway
Early in the day, add to your mixer (or mix by hand):
2 cups vigorous starter at 166% hydration – 18 oz/510g
2 cups lukewarm water – 16 oz/453g
1/4 cup powdered milk – 1 oz/28g
1 Tablespoons Oil – .5 oz/14g
1 rounded Tablespoon Malt syrup – 1 oz/28g (or substitute honey/maple etc. syrup)
5 &1/3 cups mixture of ½ bread and ½ all purpose flour – 1 lb 8 oz/ 680g
1 Tablespoon salt – .6 oz/17g (Add after Autolyse)
Don't add next ingredients until later:
2 – large sweet onions, chopped and fried until browned (use more or less depending on how oniony you want your bread)
1 lb/453g of chunked Cheddar cheese
Process the dough on medium speed for about 3 minutes. Let the dough rest for 20 minutes (Autolyse) and then add the salt and mix for about 7 more minutes on low speed. Cover and let dough bulk ferment until doubled, 4 – 6 hours. While waiting for the dough to ferment, chop the onions and fry in oil on medium heat until nicely browned, cool.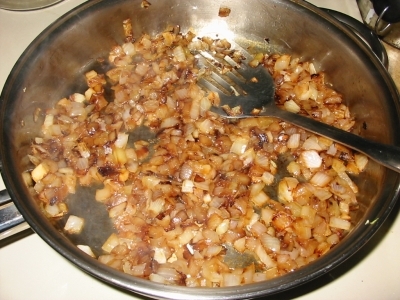 Cut the cheese into large chunks approximately 1/2 inch square. When dough is proofed, add your onions (cooled) and cheese chunks. Stir in the cheese and onions on low speed until the chunks are mixed into the dough. Then fill two large (9" x 5" x 2.5") greased bread pans a bit over halfway with the batter (1 lb 14.8 oz/864 g each). I pushed in some extra cheese chunks on the top of the loaves. You might have to experiment with how much batter you will use in your pan.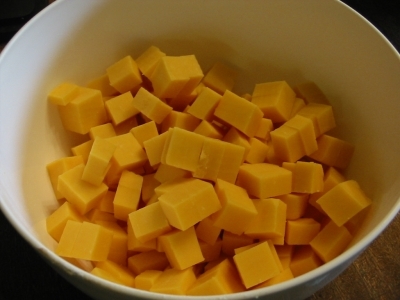 Let dough rise to the top of the pan (about two – three hours). When the dough is almost to the top, preheat oven to 400F/204C degrees. Bake both loaves for 35 – 40 minutes turning loaves halfway. Cool bread for a short time, and while still warm, turn out loaves so they don't get stuck in the pan. Then cool completely.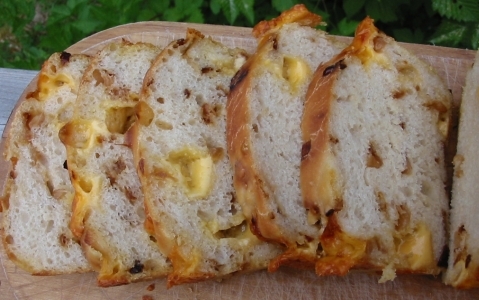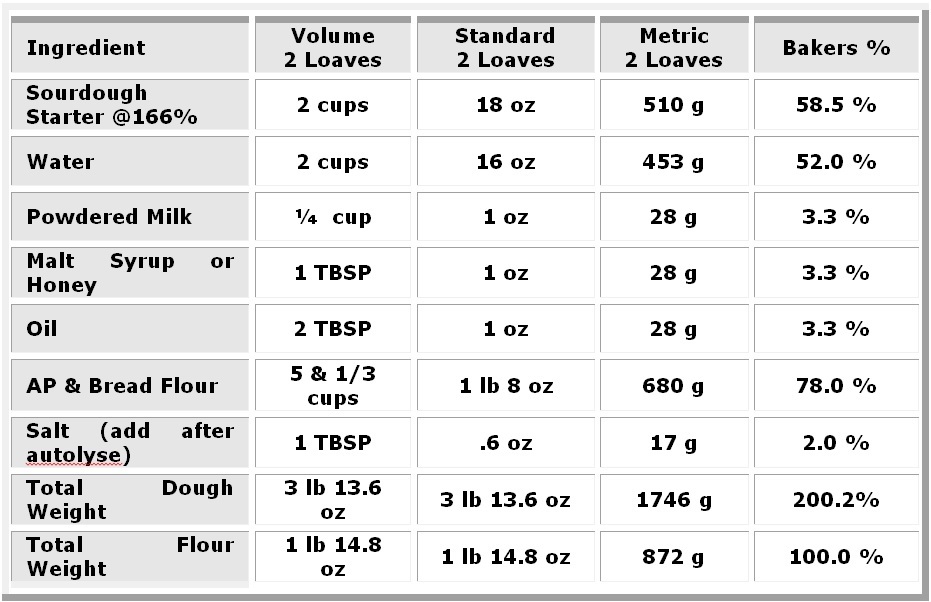 Options:
Substitute ½ cup of evaporated milk for ½ cup of the water instead of the powder milk or in addition to it.
Add ½ teaspoon of onion powder to the batter during mixing.
Add chopped canned chili peppers
Sprinkle in some cracked black pepper or some red chili flakes.
Use Swiss cheese chunks
These onion cheese loaves are soft, smell and taste heavenly and you will be asked to bake them again!
How creative can you get? Make up the batter and add different spices/fruit/cheese/veggies/nuts/seeds etc. Use a round cake pan, an angel food pan or make muffins. Sprinkle seeds on top, cheese, spices etc. Be creative and have fun!
.
.