Ruth's Oatmeal Cookies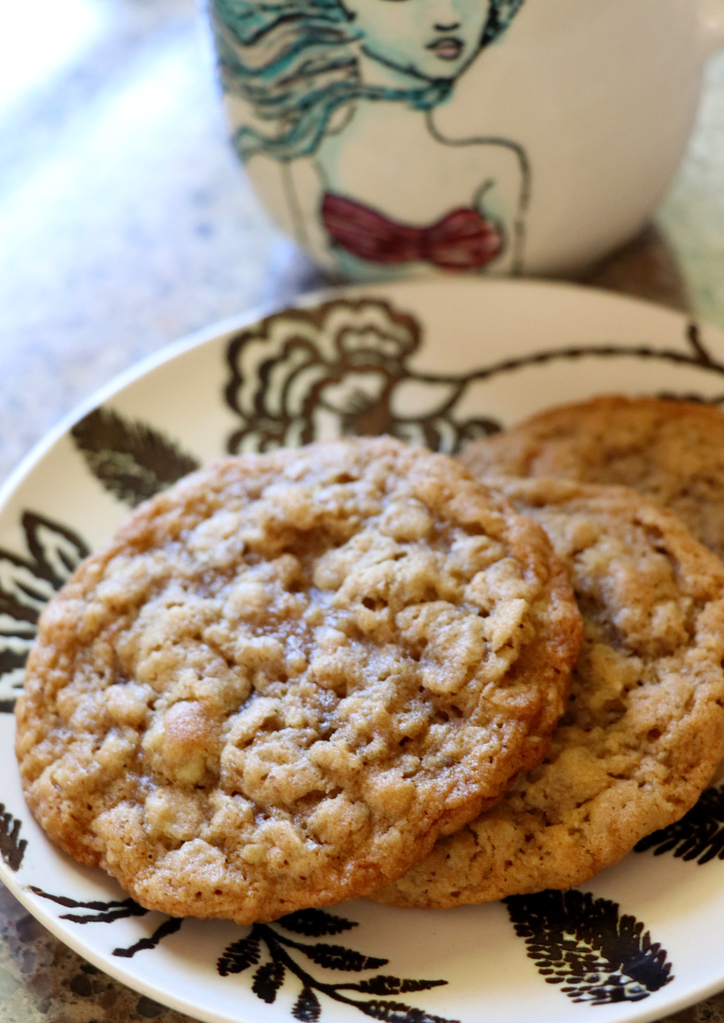 A super simple, cheap and easy oatmeal cookie that's chewy and full of flavor. This recipe skips the raisins and cinnamon and opts for a punch with finely chopped walnuts and brown sugar. It really allows the nutty flavor of the toasty oatmeal to shine through.
This recipe was one of my grandma's favorites. She kept them in a big tin on top of her fridge and they were so coveted despite being such a simple cookie. Now that I bake them as an adult I use all real butter instead of the vegetable shortening that was originally called for. If you would like to use the original recipe with shortening just substitute shortening for the butter and cut back on the flour by 40 grams.
Ruth's Oatmeal Cookies
All rights reserved worldwide
(Makes approximately 3 dozen cookies)
226 grams (1 cup) butter
200 grams (1 cup) granulated sugar
200 grams (1 cup) brown sugar, packed firmly
2 eggs
2 teaspoons vanilla extract
280 grams (2 1/3 cups) all-purpose flour
1 teaspoon baking soda
1 teaspoon baking powder
1 teaspoon salt
180 grams (2 cups) old fashioned rolled oats
60 grams (½ cup) finely chopped walnuts
Cream butter or shortening in stand mixer or with an electric hand-held mixer. Add granulated and brown sugar and mix until thoroughly combined. Add eggs and vanilla and beat until fluffy. Measure in the flour, baking soda, baking powder, salt, oats and walnuts and then continue mixing until well combined. Roll into balls the size of large walnuts, about 30 grams each. If you are using all butter you might have to chill the dough for an hour or two if they are spreading too much for your liking. Bake in pre-heated 350F/176C for about 8-10 minutes or until the edges are golden brown and the cookies are spread flat. Let set on hot cookie sheet for about three minutes and then move to a wire rack to cool completely. Store in a tightly covered container at room temperature.