Sourdough Hot Cross Buns (with orange browned butter frosting)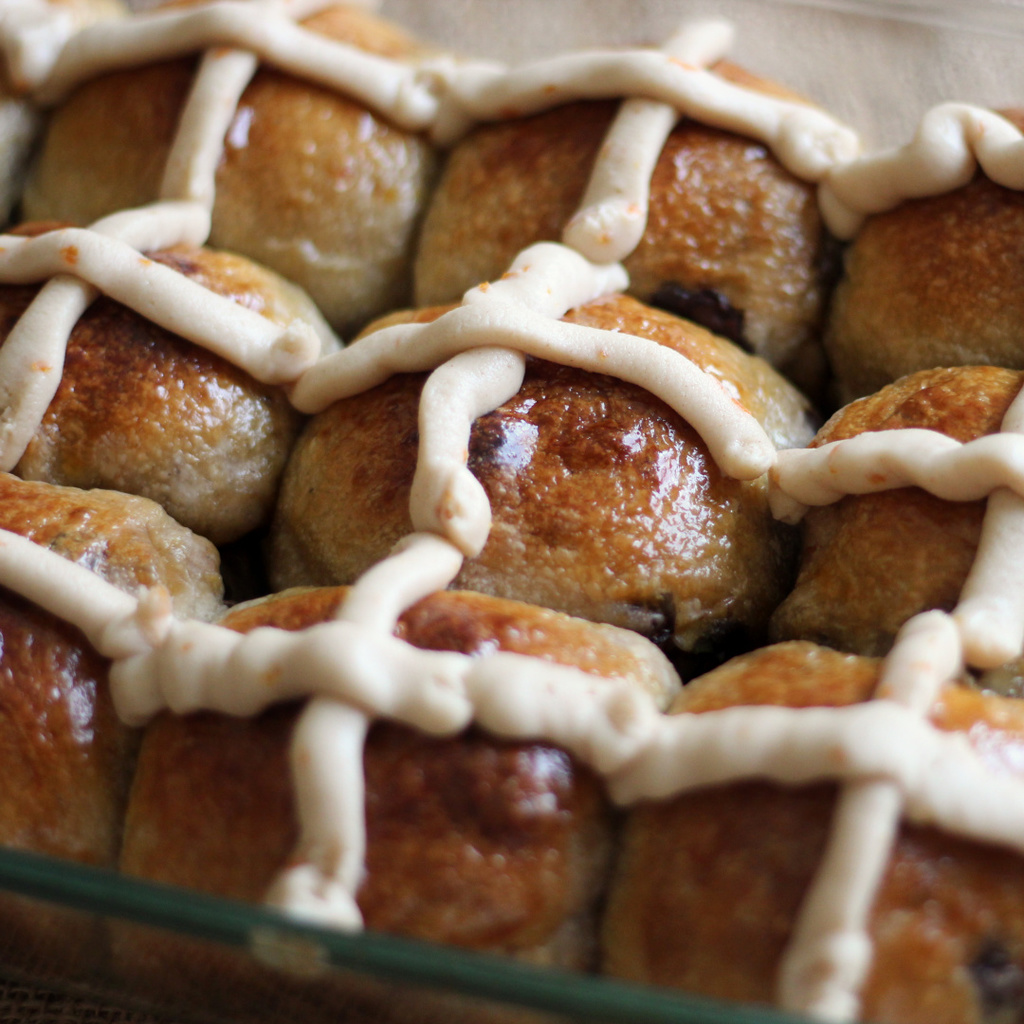 25 grams all-purpose flour
113 grams butter
125 grams milk
200 grams cold water
75 grams very active 100% hydration sourdough starter
475 grams all-purpose flour
275 grams bread flour
10 grams salt
37 grams of brown sugar
75 grams of raisins or dried currants
75 grams of bitter or semi sweet chocolate chips


1 Tablespoon orange zest
¼ teaspoon cloves
¼ teaspoon nutmeg
1 teaspoons cinnamon


1 egg yolk beat with 1 Tablespoons of milk


3 Tablespoons of cooled browned salted butter
2 cups of powdered sugar
1 teaspoon of vanilla
1 Tablespoon of orange zest
1 1/2 Tablespoons of cream or half&half
In the mid morning melt butter in a large microwave safe mixing bowl. Whisk in the 25 grams of all-purpose flour. Scald the milk and immediately after removing from the heat, carefully whisk into the butter flour mixture until thick and smooth. Pour in the cold water and whisk again until smooth. Add the sourdough starter, flour, salt and brown sugar. Mix all together well and let sit at warm room temperature for 2 – 3 hours, folding a couple of times per hour. Press out the dough as flat as possible and pour on the raisins, chocolate chips orange zest and spices. Fold dough in half and then in half again. Let sit for another 2-4 hours at room temperature or until very fluffy and stretchy. fold at least once each hour to slowly combine the additions. Dump your dough out onto work surface and divide into 12 pieces at about 115 grams each. Roughly shape into balls by folding each dough wad into the center and turning upside down. Let rest 20 minutes before rolling balls against the work surface to pull the surface tension of the dough taut. Move to a greased 13"x9" casserole dish, cover tightly and move to the refrigerator overnight to bake the next day (alternately you can leave at warm room temperature for another 2-3 hours or until they soft and fluffy looking but not quite doubled in volume before baking that same evening.)

In a small saucepan on medium/low carefully brown the 3 Tablespoons of butter, being very careful not to burn. Have a cool bowl ready to quickly move the butter to if it starts browning too quickly. Leave at room temperature until you are ready to prepare icing.

The next morning remove the buns from the refrigerator. Beat your egg yolk with cream and brush over the tops of the buns with a pastry brush. Let set at room temperature for about 3 – 5 hours or until the rolls are warmed, fluffy and almost doubled in volume. Place in a preheated 375F/190C and bake for 30-35 minutes or until fully browned on tops and bottoms, rotate dish during baking if necessary for even browning. Let cool completely before icing.

In a kitchen mixer combine the cooled browned butter, powdered sugar and vanilla. Slowly add the cream just until the icing is fluffy and comes together. You don't want it too runny or it wont' keep it's shape on the buns. Mix on medium speed until fluffy and then scoop into the center of a ziplock bag, seal and clip about 1/4" of the corner of the bag off for piping. Pipe crosses onto your cooled buns and serve.