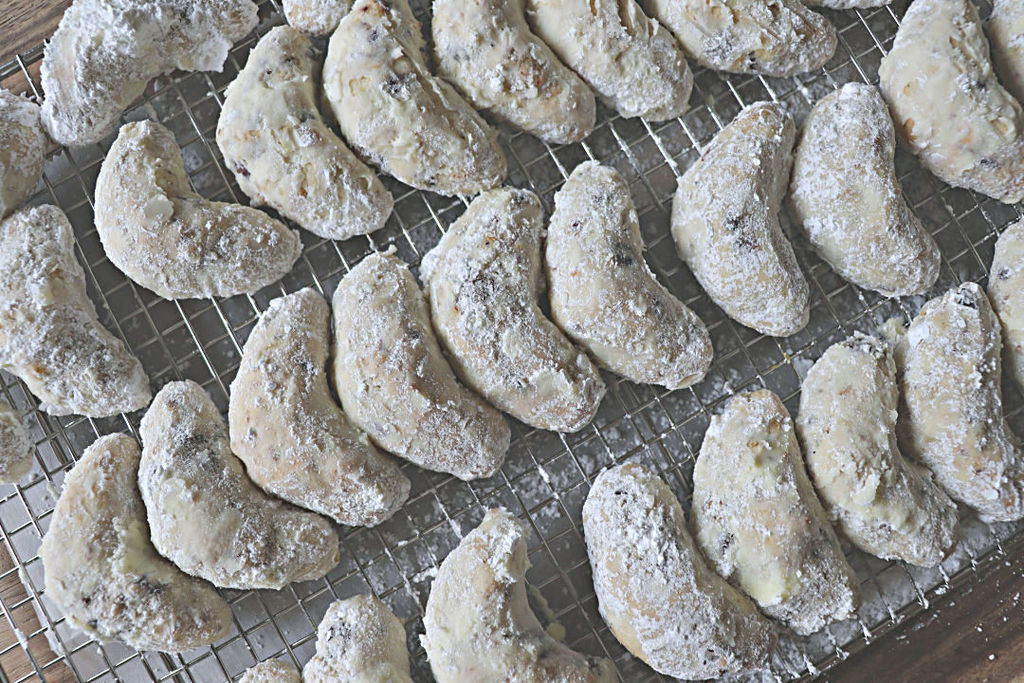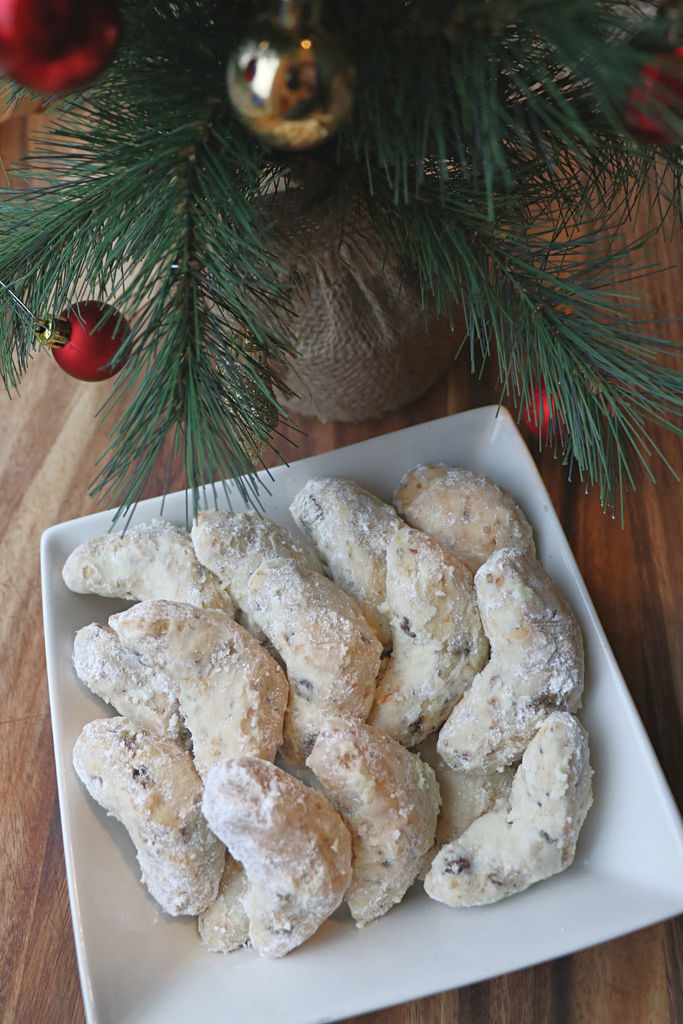 This is an original recipe by Teresa Greenway. With the fragrant anise, fruits and toasty walnuts, they smell just like Christmas. The texture is similar to a Mexican Wedding Cake; a delicate, lightly sweet and buttery shortbread.
We don't use vegetable shortening as a general rule so I adapt it by using butter in place of the shortening. The cookies come out ever so slightly fluffier and with a softer shape to them but the flavor is not altered. If you are using all butter, make sure your cookie dough is quite crumbly and I chill it for at least 5 hours before shaping to prevent spreading.
Snowmoons
(makes approximately 4 dozen)
227 grams (1 cup) of softened butter
190 grams (1 cup) of butter flavored shortening
270 grams (1 ½ cup) powdered sugar
2 teaspoons of vanilla extract
4 tsp of anise extract
25 grams (3 Tablespoons)of anise seeds
550 grams (approx 4 ½ cups) all purpose flour
½teaspoon of salt
150 grams (1 ½ cups) of finely chopped walnut
115 grams (¾ cup) of chopped candied orange peel
145grams (1 cup) of chopped raisins
65 grams (¼ cup) of evaporated milk if necessary
350 grams (approx 2 cups) of powdered sugar

Cream butter and shortening until thick and fluffy, add extracts and anise seeds. Stir in salt and flour until well combined and then mix in chopped nuts and fruits. Only adda touch of evaporated milk if the mixture is too crumbly to shape. If necessary add it only 1 Tablespoon at a time just until it comes together. You want a dough that is crumbly but able to be pressed into the shape of a cookie.

Shape into small crescent moons at approximately 30-35 grams each. Line up 1/2" apart on an un-greased cookie sheet and bake at 375 for approximately 12 minutes or until golden browned on the bottoms. Remove from oven and let the cookies cool enough to handle. Roll in powdered sugar while still slightly warm and set on wire rack with parchment paper underneath to cool completely. Store in a tightly covered container at room temperature.