Sourdough Naan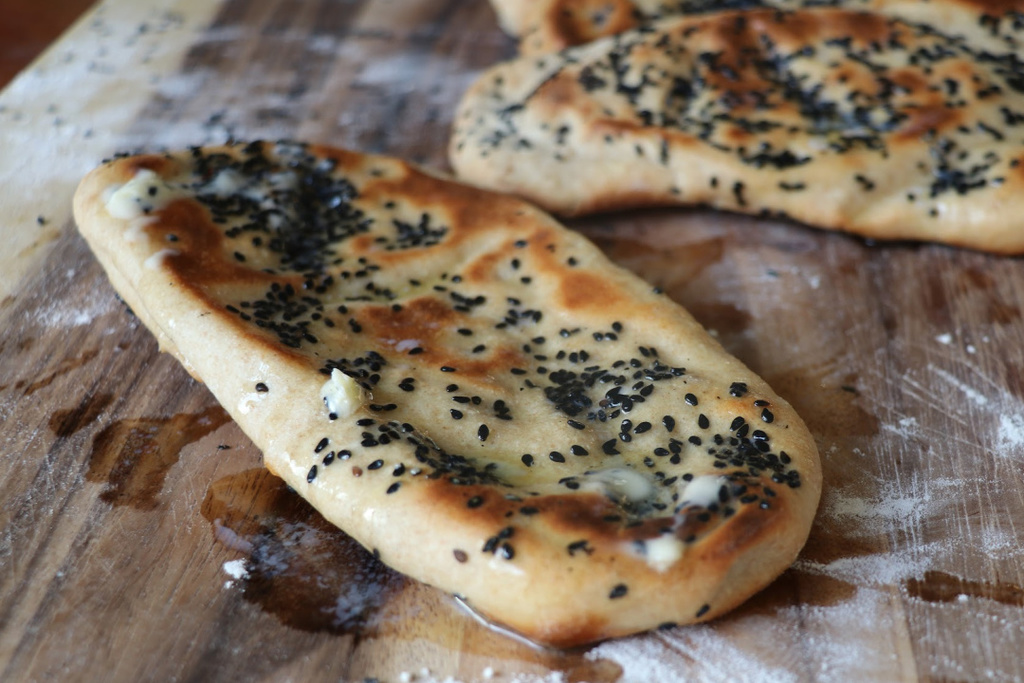 This content will be available to the general public for two weeks and thereafter it will only be available to members of The Baking Network.
By Rochelle Greenway All rights reserved worldwide
This is my personal take on naan, a yummy leavened flat bread. Naan is a traditional Asian and Indian bread served with saucy foods like curry. This formula is an easy at home method utilizing sourdough as the leavening and using a hot baking stone instead of a time honored tandoor.
Formula for Sourdough Naan:
284 grams of whole milk
56 grams (2 Tablespoons) of butter
15 grams (1 Tablespoon) granulated sugar
70 grams (3 Tablespoons) sour cream or whole milk greek yogurt
1 tsp of cumin seeds
1 teaspoon of dried onion powder
200 grams of active 100% sourdough starter.
332 grams of bread flour
150 grams of whole wheat flour
9 grams (1 ½ tsp) salt
13 grams (1 Tablespoon) toasted sesame oil
Scald milk, butter, sugar, yogurt, onion powder and cumin seed. Let mixture cool to room temperature. Add sourdough starter, bread flour, whole wheat flour, salt and sesame oil. Combine on low speed of kitchen aid mixer just until combined. Let sit 30 minutes and mix on low speed again for 10 more minutes. Let proof, doing a stretch and fold every 30-60 minutes, for approximately 4-5 hours. Divide dough into 8 equal pieces and on a floured board gently pull into a rough oval shape about 8 inches long and 5 inches wide. Let set about 30 minutes. Gently slide onto a hot baking stone that has been preheated in a 500 degree oven for one hour. Bake for 3 minutes and then flip and bake for another 3-4 minutes until golden brown. Serve warm basted with butter.