Syrian Flatbread – Pita Bread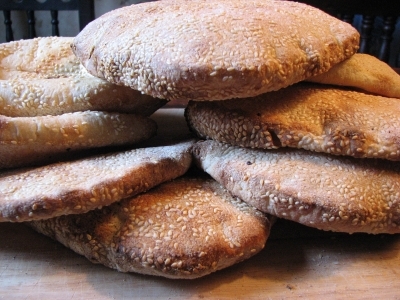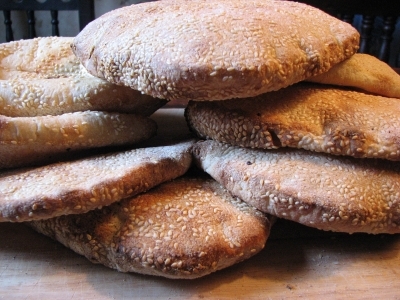 SYRIAN FLATBREAD
All rights reserved worldwide – Teresa L Greenway

Convert your starter:
Mix together:
Note, this was an older formula using 166% hydration starter. Convert your 100% hydration starter to 166% easily by:
Combine 191 grams of starter at 100%hydration and 63 grams of water
you will have approximately 1 cup/ 9 oz of starter at 166%.
191 grams (100% starter) plus 63 grams of water = 1 cup/ 9 ounces/254 grams (of starter at 166% hydration).
[thrive_text_block color="dark" headline="Using 166% Liquid Starter – Makes large a batch"] [/thrive_text_block]
Mix together:
1 cup starter very vigorous at 166% hydration – 9 oz/255 g
1 cup water – 8 oz/226 g
3/4 cup evaporated milk – 6 oz/170 g
3 Tablespoons melted butter or oil – 1.5 oz/42 g
4 cups all-purpose flour – 17.6 oz/499 g
2 cups whole wheat flour -8.4 oz/238 g
3 tsp salt (1 Tablespoon) – .6 oz/17 g
This recipe makes approximately 3 lbs 3 oz/ 1445 grams of dough.
Using 100% Starter: – Makes half a batch
Mix together:
95 Grams 100% sourdough starter
144 grams water
85 grams canned or scalded milk
21 grams oil
250 grams All purpose flour
119 grams whole grain flour
8 grams salt
This recipe makes approximately 1.6 lbs/ 722 grams of dough.
Mix up the ingredients (except salt) in your mixer or by hand and let autolyse for one hour. Add salt then mix or fold to incorporate the salt. Bulk ferment for 4 – 6 hours or until doubled. Then divide the dough into 115-130 grams for a average size pita. Roll into balls and let rest for 5 – 10 minutes.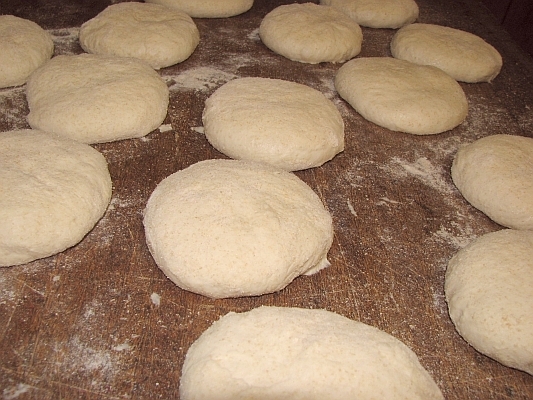 After resting, roll out the pieces of dough about 1/4 inch thick. You can roll the dough in sesame seeds for flavor and looks. Then let the dough proof again for about 30-40 minutes. In a preheated oven (500 degrees), on a hot stone, gently stretch the dough out slightly and throw the dough onto the top of the hot stone. It works best if you stone is near the lower part of the oven.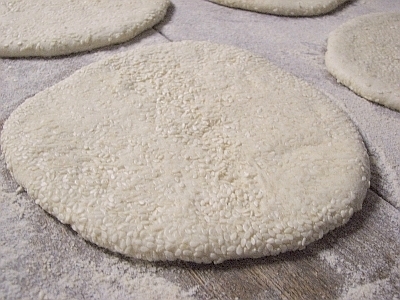 Bake for 4 minutes on each side. The dough puffs up into a balloon after the first 4 minutes. If the flatbreads aren't soft enough bake on each side for less time. Serve cut in half for pita sandwiches or warm with butter.
These are very delicious! These Syrian Flatbreads were about 8 inches in diameter when done baking, if you want them smaller cut the dough into 4 or 5 ounce pieces. Here are the results: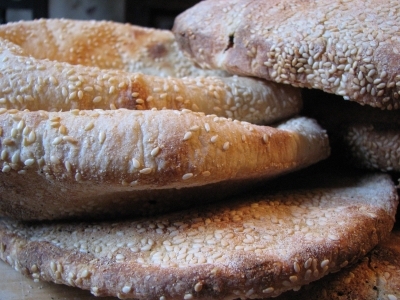 There's another newer formula at the end of this video:
Enjoy! Teresa