Sourdough Cake in the Road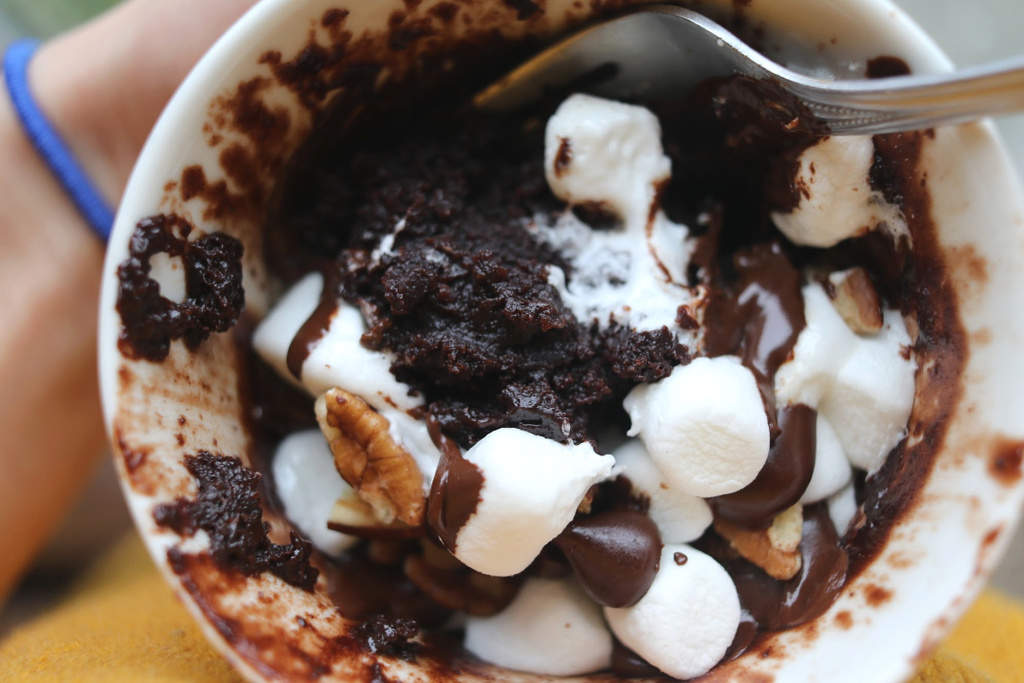 (AKA Rocky Road Mug Brownies)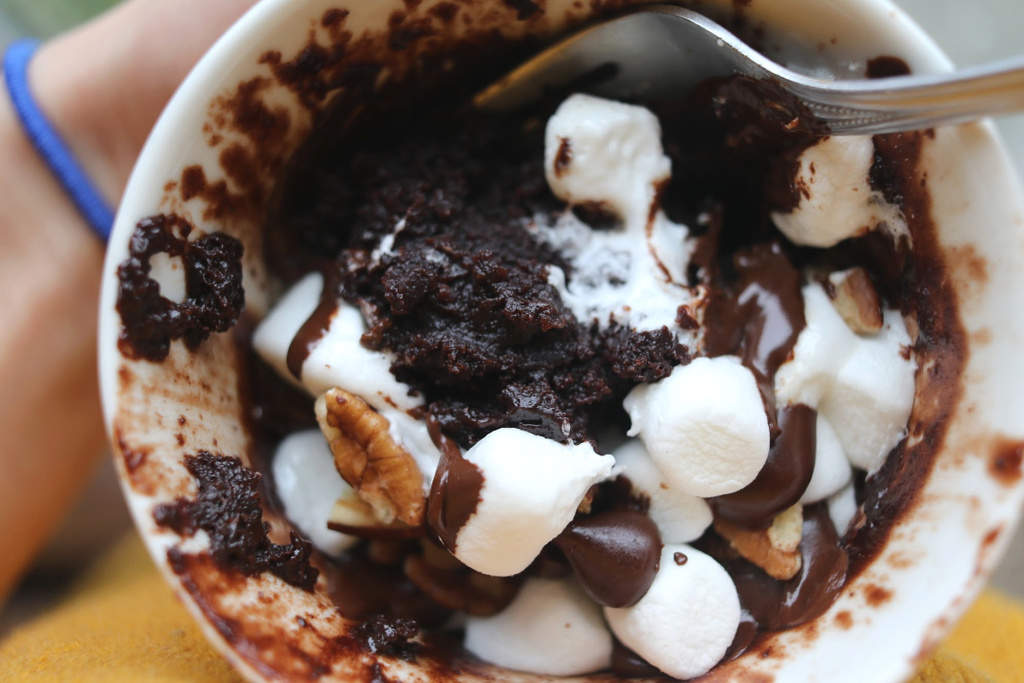 The name of this decadent little treat originates with my younger sister, Natalie Grace. As a little girl "Cake in the Road" was her way of saying Rocky Road. Back in the day, when an unexpected late night craving for sweets would hit, a few of us siblings would throw together cocoa microwave brownies.
They were usually mixed in the dish, haphazardly zapped just enough to be cooked (but preferably barely-cooked rather than rubberized by the microwave.) Turns out if you top them with enough chocolate chips, marshmallows and nuts then who knows if it's melted chocolate or not-quite-cooked brownie? Or overcooked brownie or some crunchy nuts?

So yep, "Cake in the Road" is definitely what it looked like. Not surprisingly it tasted so much better than the name infers!
Here is my current one-serving version and as a bonus it will help you use up any leftover sourdough discard.


32 grams of salted butter
50 grams of granulated sugar
50 grams of sourdough starter discard
15 grams of cocoa powder
15 grams of milk
pinch of salt
pinch of baking soda*
1/2 teaspoon of vanilla
12 grams of mini-marshmallows
12 grams of semi-sweet chocolate chips
Chopped nuts
Measure butter into an average size (12ounce) microwave safe coffee mug. Microwave on high for about 10-20 seconds or until butter is melted. Remove mug from microwave and add sugar, starter, cocoa, milk, salt, baking soda and vanilla. Whip with a fork or miniature whisk until very smooth and thoroughly incorporated.

Microwave on high for approximately 1 to 1.5 minutes (mine takes 1 minute and 20 seconds to be perfect) or until the brownie mixture puffs up to the top of the mug and the top gets slightly dry and set. Remove from microwave and add 12 ounces of miniature marshmallows, 12 ounces of chocolate chips and a sprinkle of chopped nuts. Cover the mug with a small plate and let sit for 5-10 minutes. Remove the plate and eat warm.
*Note: Use only as much baking soda as you can pinch between your forefinger and thumb. Go super light if your starter is not very old and sour because the intention is to counter-act the acidity of the starter.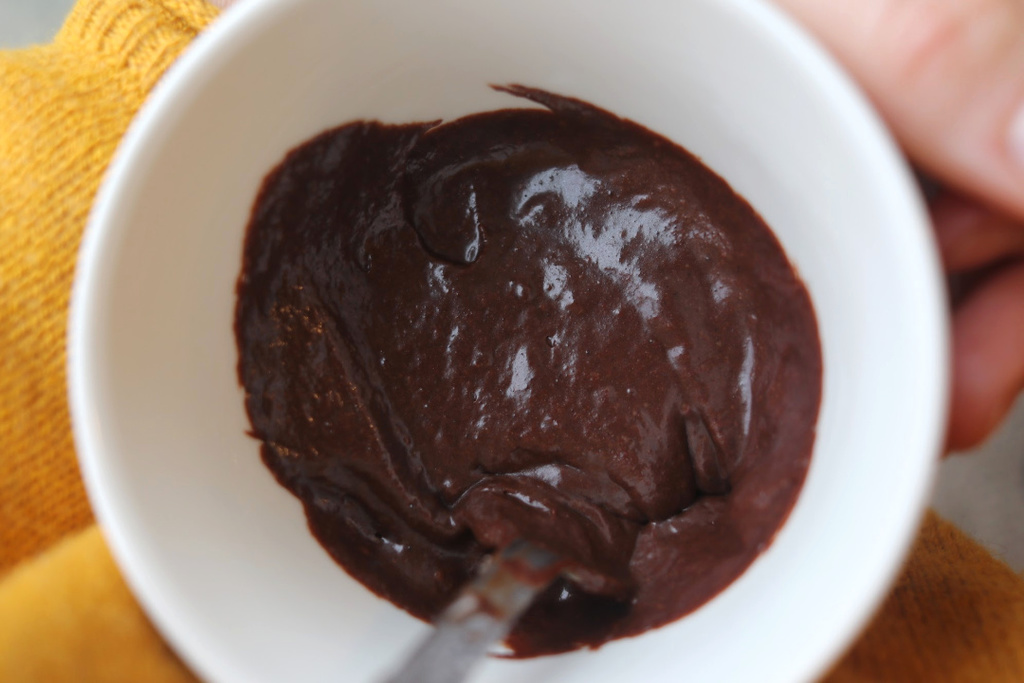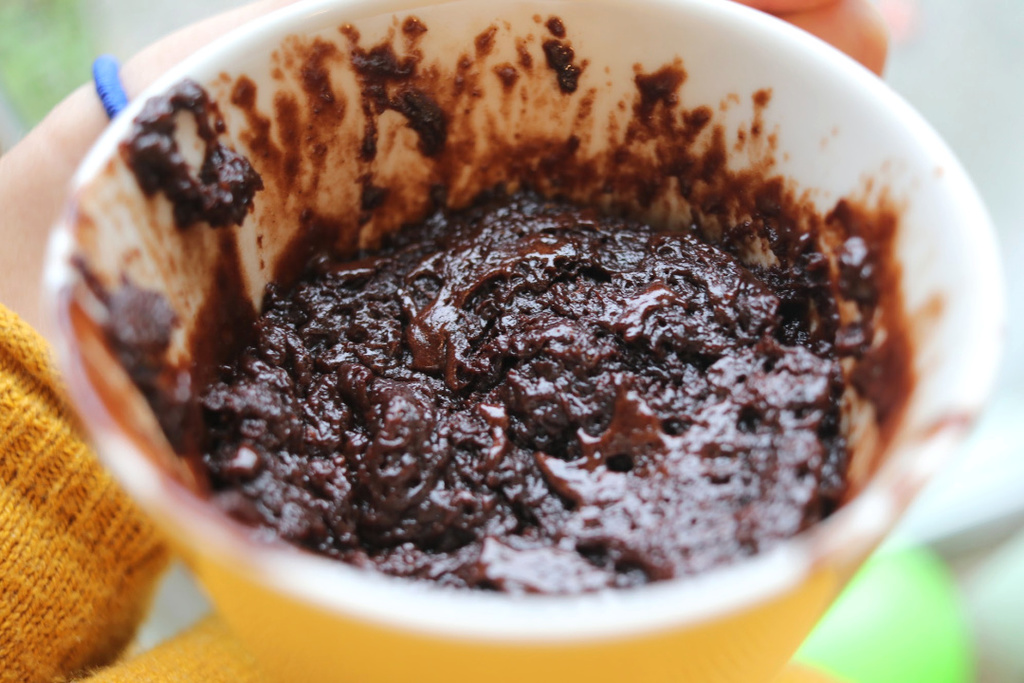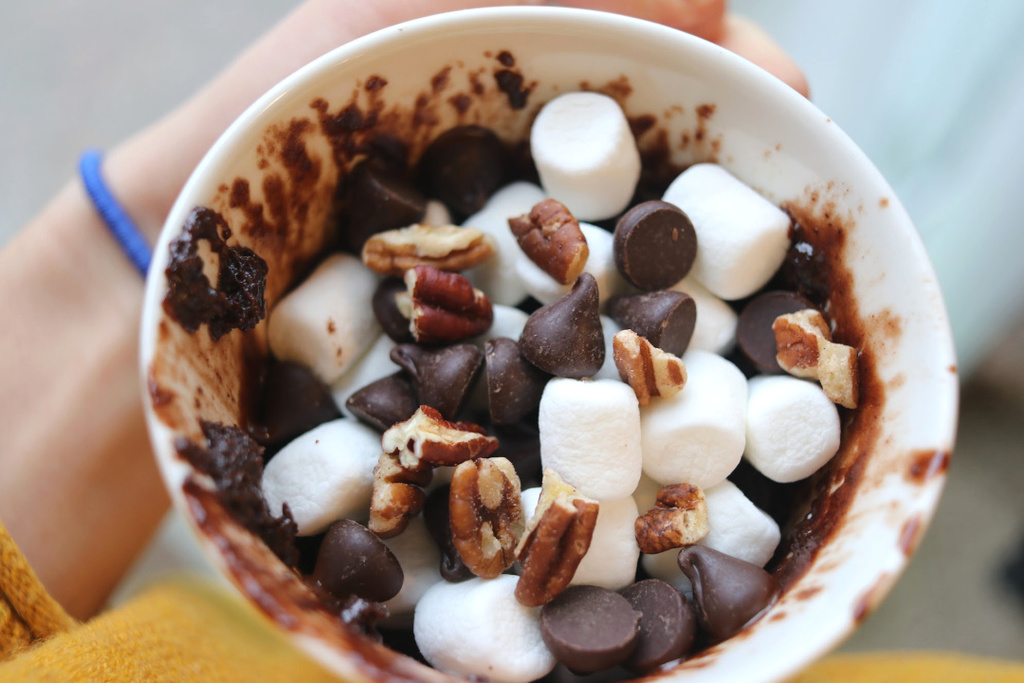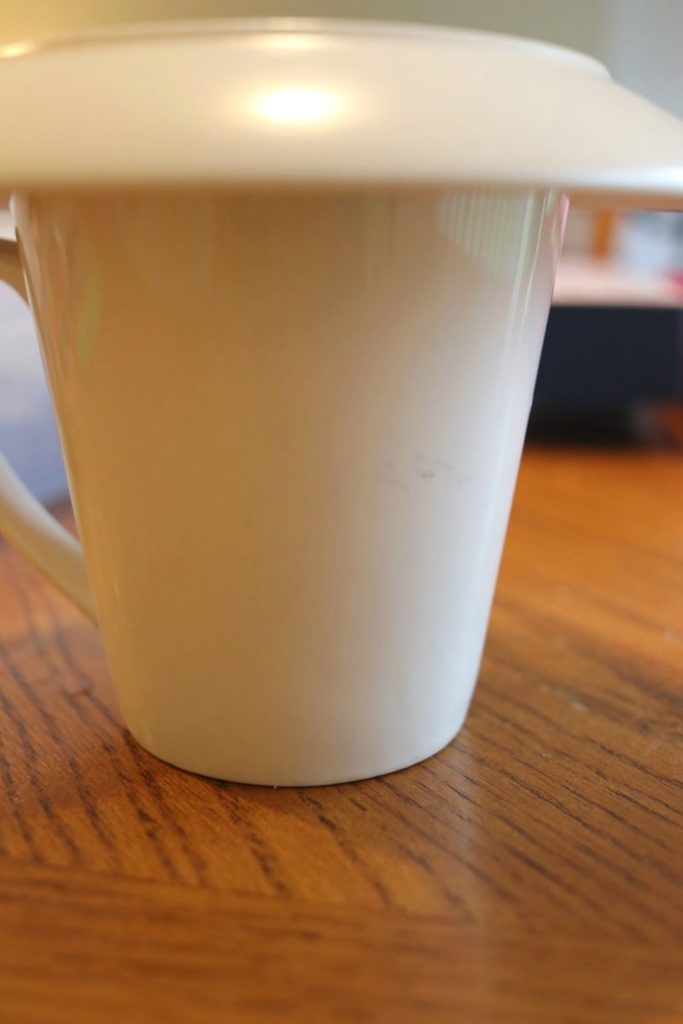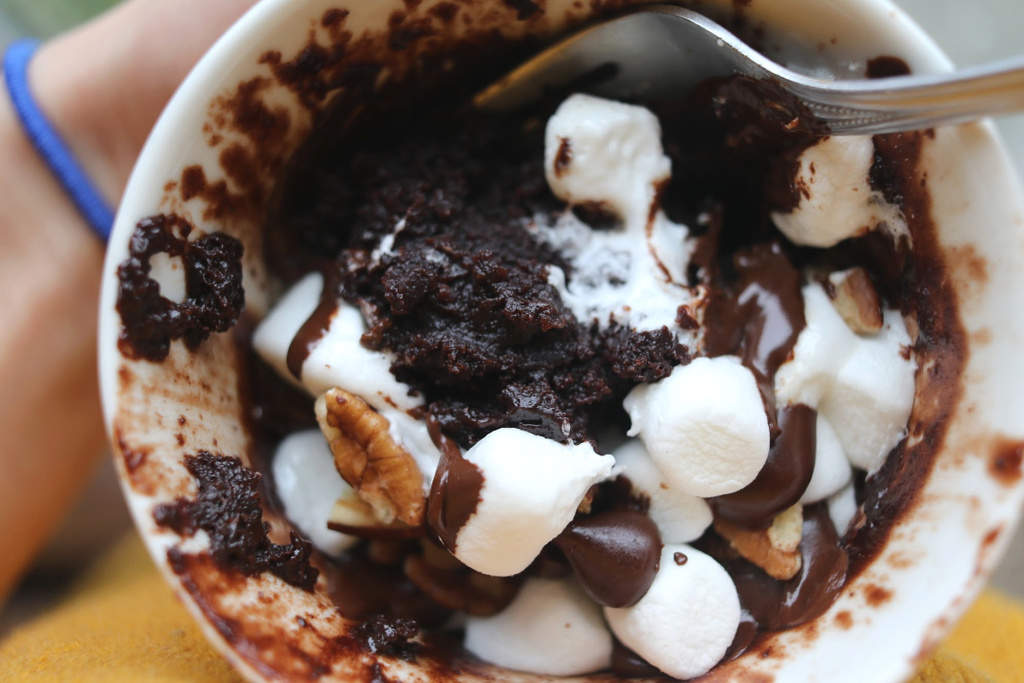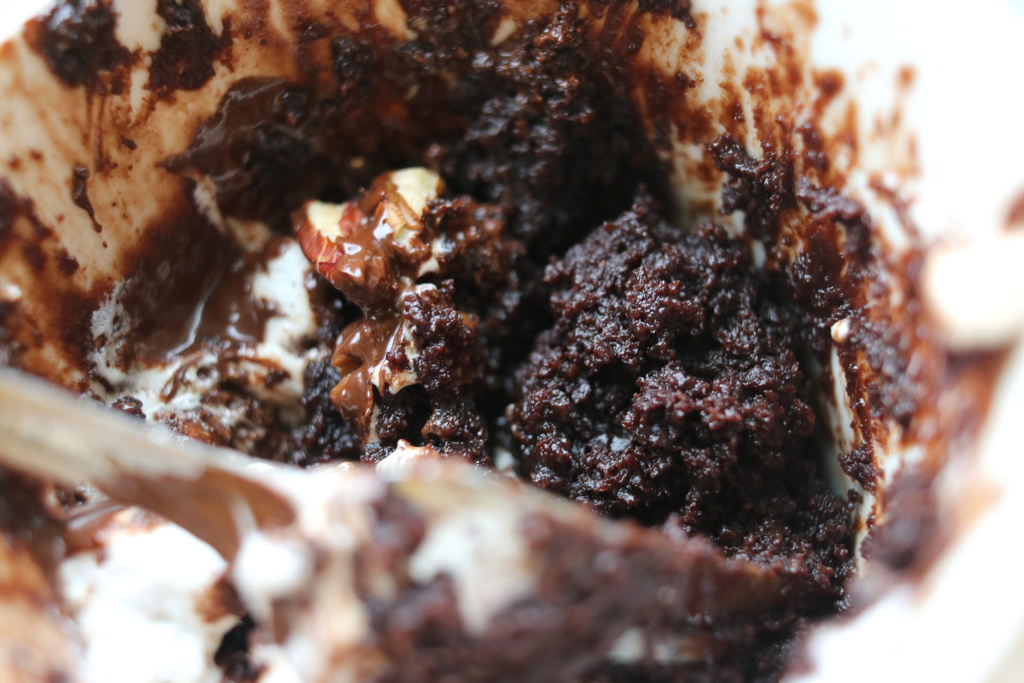 .
For more recipe, methods and baking techniques join us: https://thebakingnetwork.com/begin-here/
.