Sourdough English Muffins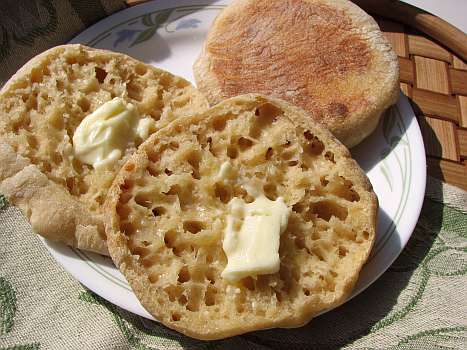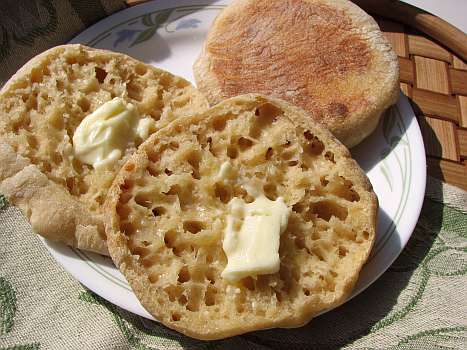 This post is an excerpt from my four volume book "Discovering Sourdough."
All rights reserved worldwide – Teresa L Greeway
SOURDOUGH ENGLISH MUFFINS
English Muffins are griddled, they are fun to make. This recipe will make about 16 muffins. Half the formula for eight muffins.
If you use a 100% starter, covert it easily to use the following English Muffin formula:

Convert your 100% hydration starter to 166% easily by:
Combine 191 grams of starter at 100%hydration and 63 grams of water, you will have approximately 1 cup/ 9oz ofstarter at 166%.

191 grams (100% starter) plus 63 grams of water = 1 cup/ 9 ounces/254 grams (of starter at 166% hydration).
In the morning mix together in your mixer:
Mix together the ingredients on a medium speed for three minutes. Then allow the dough to rest for 20 minutes.
After resting, add the salt and mix the dough for another four minutes.
Proof dough for four hours, in a warm place (75-80F/23-26C) Fold the dough once each hour.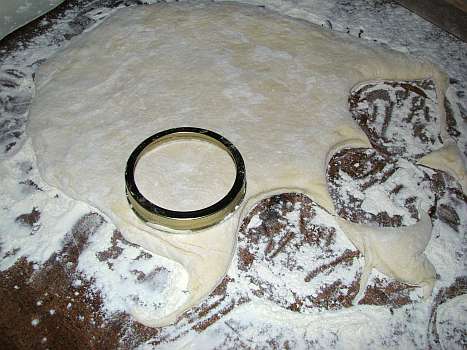 When the dough is done bulk fermenting, pour it out onto a very well floured surface. The dough will be very wet. Make sure you have the top and the bottom covered with plenty of flour. Roll the dough out to about 1/2 inch.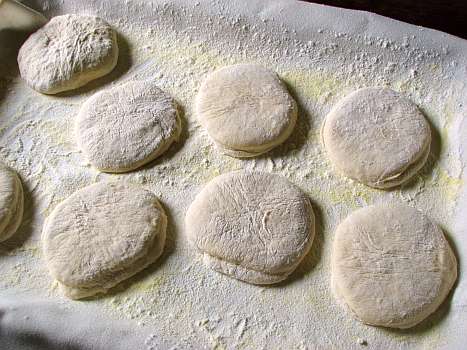 Use a wide mouth jar band or a clean tuna fish can with the lid removed as a cutter, and cut out English muffin shapes.
Place cut dough on a baking sheet which has been covered with a proofing cloth and sprinkled well with flour/Semolina. Let rise for one and one half hours, preheating griddle and oven when the proofing hour is almost done.
Cook English muffin dough on the hot (325- 350F/162-176C degree) griddle for 6-10 minutes on each side, checking to make sure your muffin isn't getting brown too fast (you can griddle them for a shorter time and finish off in the oven if you like 375-400F/190-204Cfor 6-8 minutes after griddling). Adjust heat if necessary. After both sides have been griddled serve with real butter. Cook the remaining dough the same way. This recipe makes approximately 16 English muffins.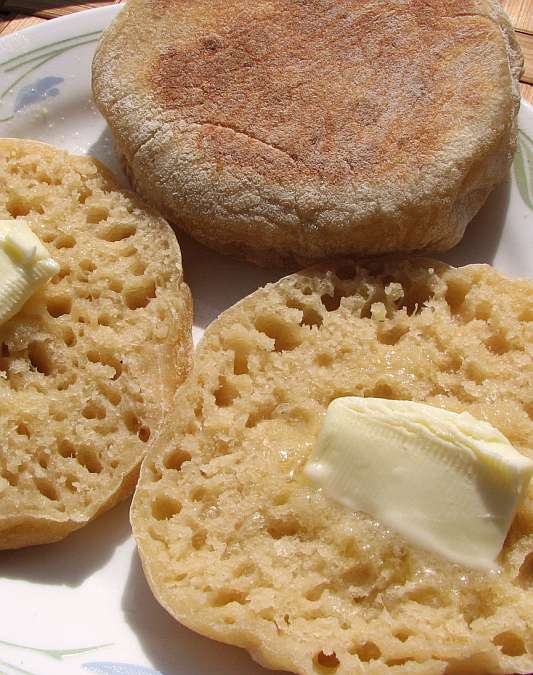 Turn the griddle heat down and cook the muffins slower on both sides if they get brown too fast. Avoid leaving on the griddle too long as the muffins will get tough. Remember to cut them open only part way and then rip apart with a fork if you want a more open crumb.
Have fun baking everyone! Teresa.
For more fun baking with sourdough, why not take a sourdough course where you can get a certificate when you are finished? See more HERE