Sourdough Fluffy Waffles
This waffle formula is a modification of Ione's waffle recipe which you can find at Quest for Sourdough: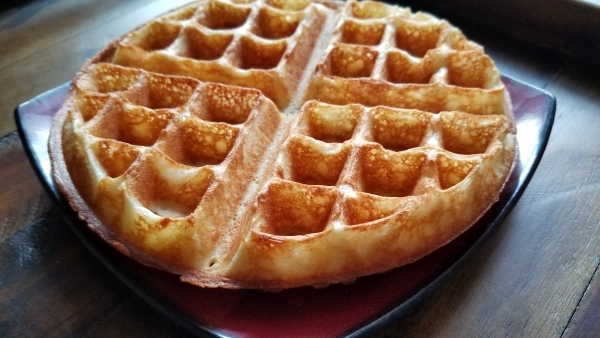 This formula is available for two weeks to the general public. After that time it will be restricted to members only of The Baking Network.
Sourdough Fluffy Waffles
These waffles are so good, light fluffy on the inside and crisp on the outside. A piece of heaven that will get gobbled up quickly!
The night before you make waffles:
In (medium large) mixing bowl 1 add:
185 grams sourdough starter @100% hydration
185 grams of liquid ( I used 100 grams of water and 85 grams of full fat milk).
185 grams of flour ( I used 45 grams of whole wheat flour and 140 grams of all purpose flour)
Mix and let set out at room temperature overnight (covered).
The next morning:
In (medium large) mixing bowl 2 :
113 grams of salted butter melted
3 large eggs
6 grams of salt (if using unsalted butter then use 10 grams of salt).
18 grams of sugar
In a small bowl mix (bowl 3):
15 grams of water which you add 6 grams of baking soda(Add this mixture to the batter at the end).
Pre-heat your waffle iron
In a separate large mixing bowl add your melted butter, three eggs and salt. Whip together.
Now combine the sourdough starter (bowl 1) into the egg/butter/salt/sugar mixture (bowl 2) and whip to incorporate the starter.
Once it is smooth, add the water/soda mixture (bowl 3) and whip it into the batter. The batter will turn fluffy immediately, so have your waffle iron hot and ready to go when the batter is finished.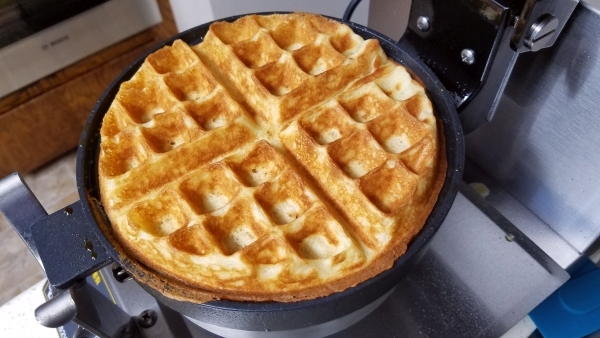 I used 400F/204C and baked/griddled each waffle for 2.5 minutes
This formula made five 7.25″ diameter waffles and they disappeared fast!