Test Loaf Formula Whole Wheat Variation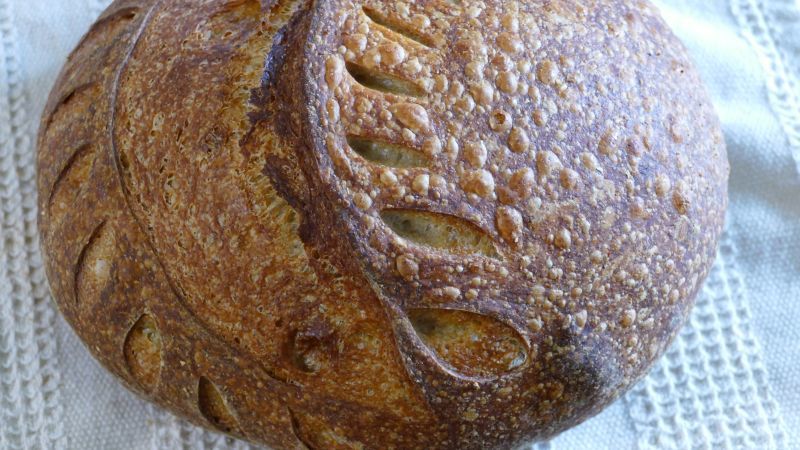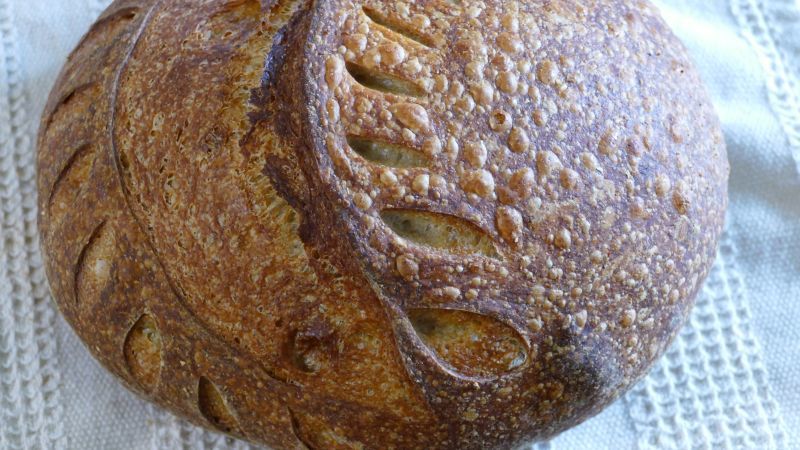 Test Loaf – 50% Whole Wheat Variation
Teresa L Greenway All rights reserved worldwide Jan 2018.
This is a variation from the test loaf formula used in the live series, "Make Your Own Sourdough Starter With Me!" I baked this loaf on day 12. You can find the whole series HERE. This loaf is 50% freshly ground whole wheat with extra water added to the formula. You can find the original Test Loaf HERE.
The starter should be hybrid (half whole wheat half white flour) or whole wheat optimally. Feed your starter in the early morning at 8-9:00 am and mix dough later in the afternoon around 3:00 -4:00 pm. I used a hybrid starter made using a 50/50 mix of all purpose flour and freshly ground hard white wheat flour.
Mix together:
120 grams vigorous sourdough starter at 100% hydration
270 grams water
200 grams bread flour (my flour is 12% protein level)
200 grams freshly ground hard white whole wheat
9 grams sea salt (no autolyse but you could do one if you wish)
799 grams dough at 71.7% hydration (enough for one loaf)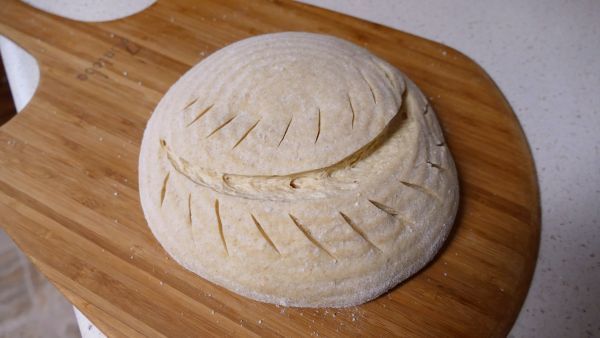 Feed starter within 6-8 hours of mixing dough.
At around 3-4:00 pm mix dough.
Fold once each hour over the next four hours bulk ferment.
Rest dough for 30 minutes.
Pre-shape dough.
Bench rest dough for 15 minutes.
Final shape dough.
Place in floured banneton and cover with a plastic bag.
Refrigerate over night for 10-12 hours.
Final proof dough until ready (mine took about 2.5 hours)
I final proofed at 74F/23C and then 76F/24C for the last hour in my proofer.
Pre-heat oven and oven stone (or Dutch oven) about one hour before baking at 480F/248C
Score loaf and place it in on the baking stone or into Dutch oven.
Mist the dough with water and place a lid over it.
Bake for 14 minutes and then remove the lid.
Bake for 15-20 minutes more until nicely brown or internal temperature reaches 205-210F/96-98C
Remove dough carefully and let cool on a cooling grate.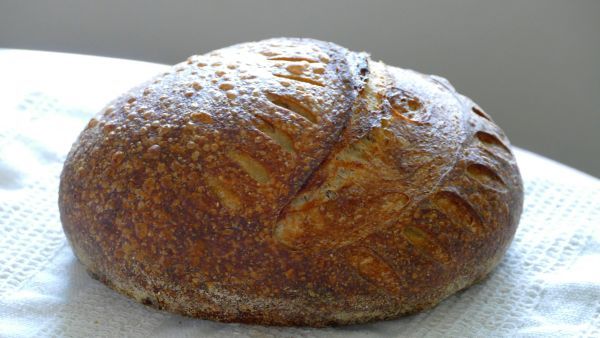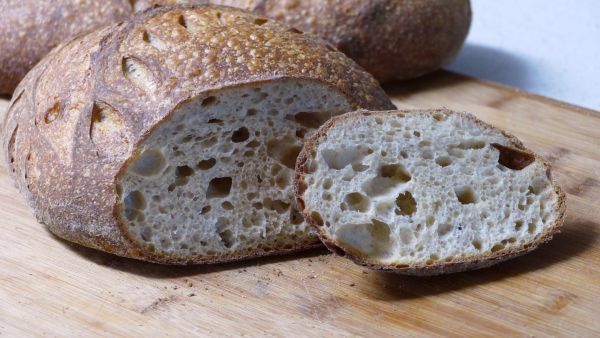 This loaf is 50% whole wheat flour and 50% bread flour for a nice wheaty flavor and medium crumb.
We're running a rare discount code for the month of August 2020. For 10% off of any membership level, use the code CELEBRATE10 during sign up. This 10% discount is not a one time discount, but will apply every month/year until you cancel your membership.