Sourdough Christmas Wreaths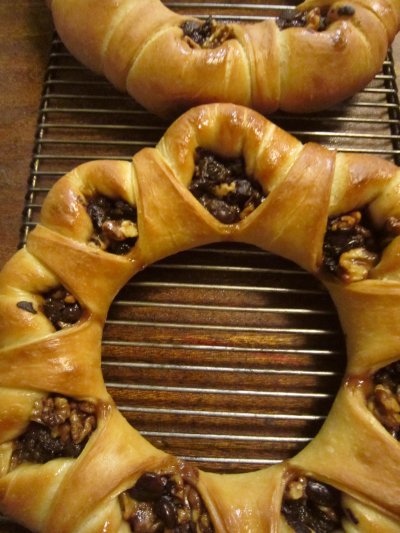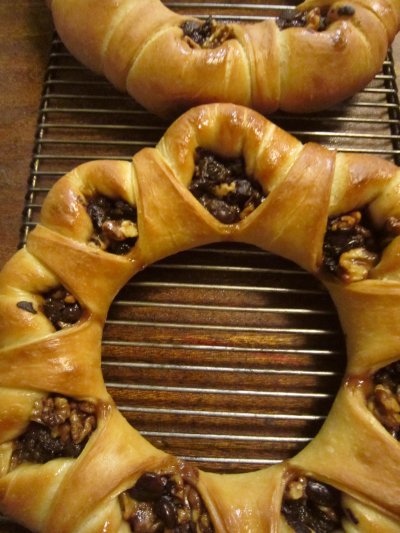 Sourdough Wreaths – Excerpted from an old blog post.
All rights reserved worldwide – Teresa L Greenway
You might see this shape on other sites, but I came up with it almost a decade ago and felt pretty proud of it when I did. This is a neat shaping technique for dough that will enable you to end up with beautiful Christmas wreaths to give for gifts or showcase your buffet table. You can follow any recipe that will produce about 1.5 lbs/680 grams of dough, as each wreath is 1.5 lbs each. You can also use any filling that suits your fancy. Some ideas would be pecans and chopped apples, preserves, chopped dates, figs and walnuts, cherries, dried cranberries, blueberries, etc.
You get the idea, your imagination is the limit. You can even tie a beautiful bow onto your finished wreath, encase it in plastic wrap and give it as a very yummy looking Christmas treat.
I made a sourdough sour cream sweet dough for my wreaths. I had some really vigorous starter fed 12 and 6 hours before mixing.
This is an all day event so start early in the morning.
Sourdough Wreaths
7 oz/198 g evaporated milk
2 oz/56 g butter
2 oz/56 g sugar
4 oz/113 g sour cream
To a medium saucepan add the above ingredients and then while stirring, bring the mixure to 120F. If you don't have a thermometer (wow!) just make sure it doesn't actually boil and the butter melts.
To the hot mixture (added after to help cool) add 8 oz/226 g cold water
Then cool the mixture to 90F. (just make sure it is not hot enough to damage the wild yeast, which is next on the list.
Add the cooled mixture to a folding trough or large mixing bowl then add:
16 oz/453 g vigorous starter @ 100% hydration
23 oz/652 g all purpose flour
Mix well and then allow the dough to autolyse for 2 hours. After the two hours is up add:
Stir the salt in well, then add:
10 oz/283 g more of all purpose flour.
You can pour the already salted dough onto the 10 oz of flour on your kneading surface and knead the flour in. You will need to knead for about 10 minutes (this is not a no knead bread). Cover the dough and let it ferment for four more hours. You can fold it once during the ferment. The dough will feel soft and silky but it is a strong dough.
While you are waiting for the dough to ferment, make the cinnamon caramel sauce that is a base for the filling of the wreaths (it needs to cool before using).
Super Cinnamon Caramel Sauce:
I use a homemade cinnamon caramel mixture that is super easy to whip up for the filling base. Make the filling base first so it can cool off before you use it. This will be enough for three or four wreaths:
To a medium heavy bottomed skillet add:
10 oz/283g brown sugar
4 oz/113g butter
2 oz/56g evaporated milk
1 teaspoon vanilla extract
1 teaspoon cinnamon
Stir all ingredients over a medium heat until you bring the mixture to a full rolling boil. Remove from heat and let cool. Thats all! Really! If you have any left over, it makes a super caramel sauce for icecream or over a warm piece of gingerbread cake (link to a great gingerbread cake recipe).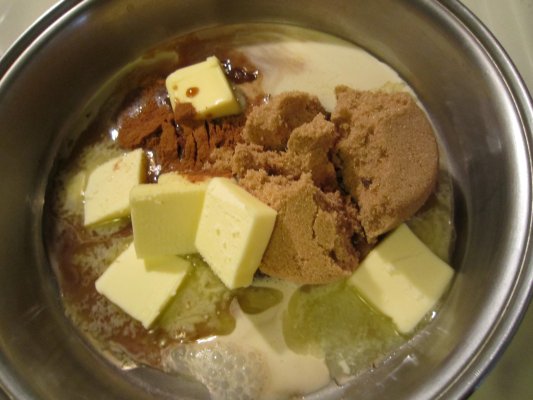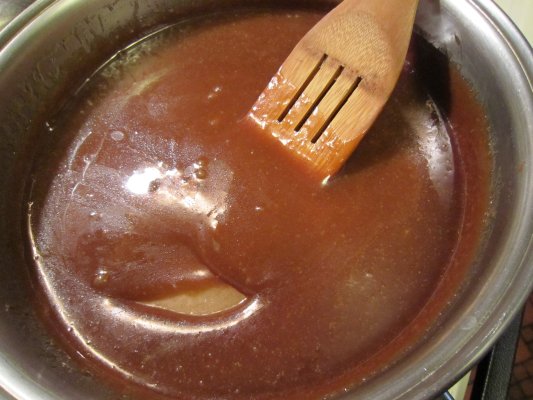 To continue with the dough:
After the four hours of ferment time, divide the dough into three pieces about 1.5 pounds/680 g each and shape them into rounds and let them rest. After 15 minutes take the first round and roll it out on a piece of parchment paper which has been sprayed with oil (spray the dough as well, you do not need any flour to roll it out). Roll it out to 15″ in diameter. Then take a cup or bowl or saucer which is 5″ in diameter and press it into the dough just enough to mark it, do not cut the dough with it.
…like this, but don't cut through the dough.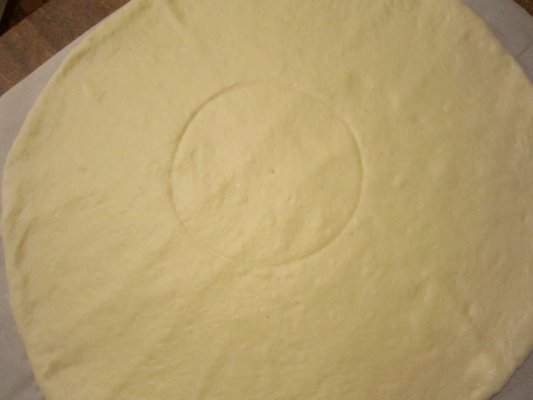 Then cut the dough like this: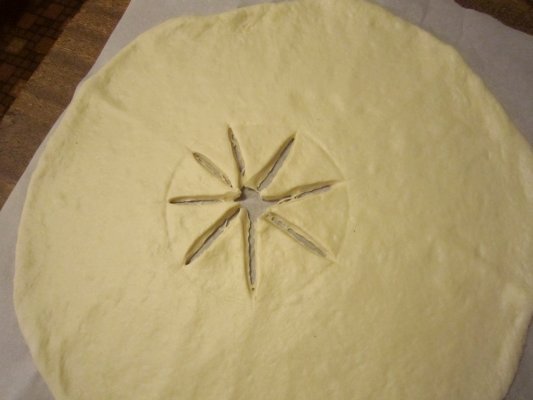 Wow! Isn't this fun!! Get that wonderful cinnamon caramel sauce that eveyone had been licking their fingers over..(yep, I already know where it went). Then spread about a third of it like this: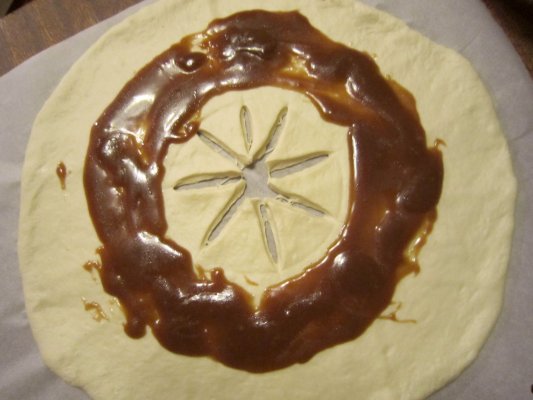 If you want to use less sauce you can, some of it will leak out during baking, but not to worry the parchment paper will catch it and your stone will not get ruined.
Now your imagination can fly: Fill with anything you want (no not tinker toys and legos… jeesh!) But think about it, if you left the sugar out when making the dough, you could fill it with a pizza kind of filling and pizza sauce and it would be awesome!!!
I piled on some dried cranberries, raisins, those awesome 60% cocoa chocolate chips that Ghirardelli's make (yea, they all do not make it into the dough! ha ha!) and walnuts.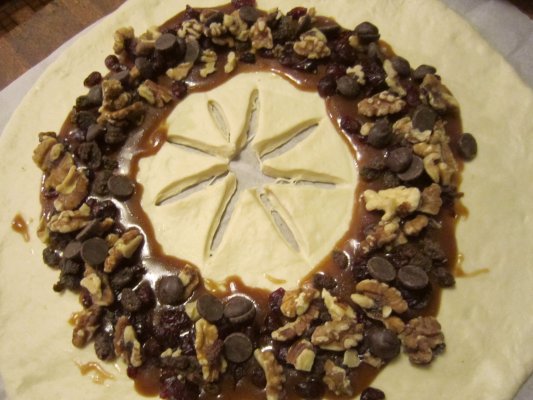 Now take the outer edge of the dough and fold it inwards like this: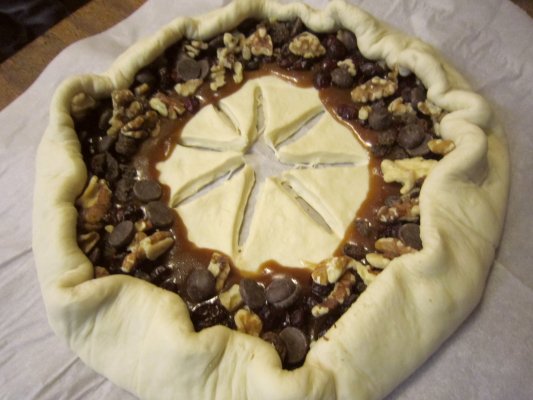 Now the fun part, take the inner star cut pieces and pull them up and over the roll and tuck them in underneath the outer edge of the wreath (this is lots of fun!):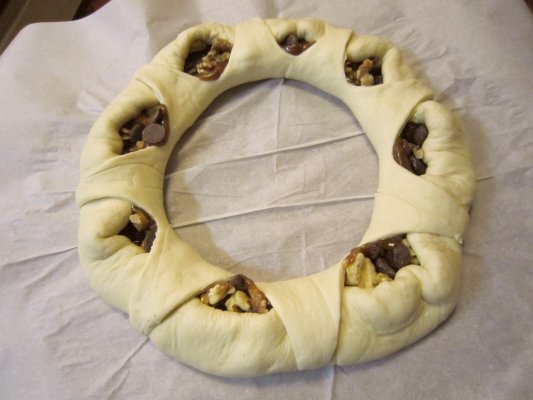 Stagger your wreaths so they are not all ready to bake at once. Shape them about 20 minutes apart. Spray the finished wreaths with more oil and allow them to proof for about 2 hours. Then when ready, place wreath- parchment paper and all onto a hot preheated baking stone and bake at 400F for 20 minutes covered with a roasting lid ( I did not spray them with water). Take the lid off after 20 minutes and then bake another 5 – 10 minutes, watch for overbrowning.
HINTS: Sourdough sweet dough tends to be a bit tougher than commercially yeasted dough, so do not overbake, it will make it that much tougher. You can place your wreath in a plastic bag while still warm (not hot) to help soften the crust. Spraying with oil, or buttering the crust helps keep it softer as well.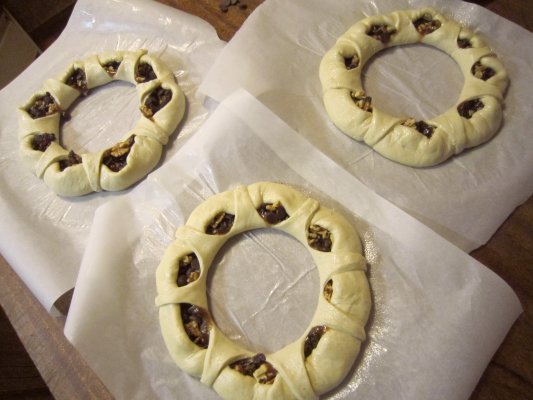 Carefully take your wreath out of the oven using a peel or flat cookie sheet (one without sides). Remove the parchment carefully and dispose of it, you need to be extra careful doing this as there will be a pool of hot melted (even burned) caramel in the middle and if you leave it, the wreath will glue to it as it cools. If the caramel in the center is burned and gets all over the bottom of your wreath, you may want to try and remove it before it cools as it will ruin the taste of your wreath.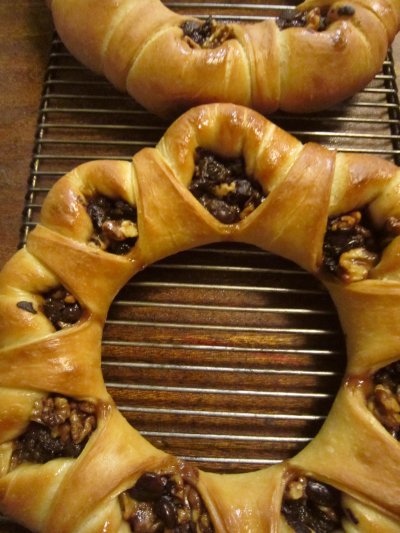 Bake the other two wreaths in their turn and cool. You can sprinkle powdered sugar on top for decoration, or swirl some thin icing on top:
Hint: To get the beautiful shiny crust, I spray the dough with oil again once it is finished baking.
Swirl some icing on top: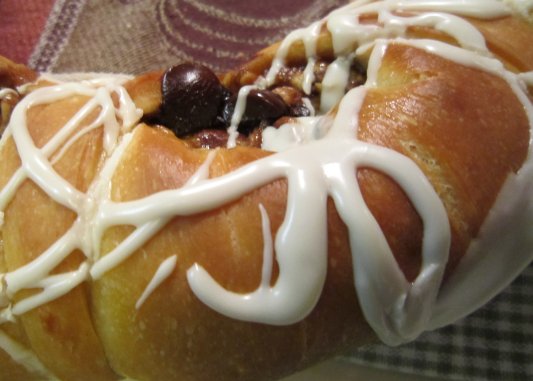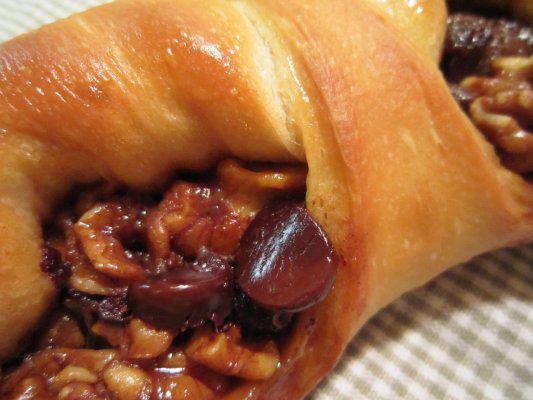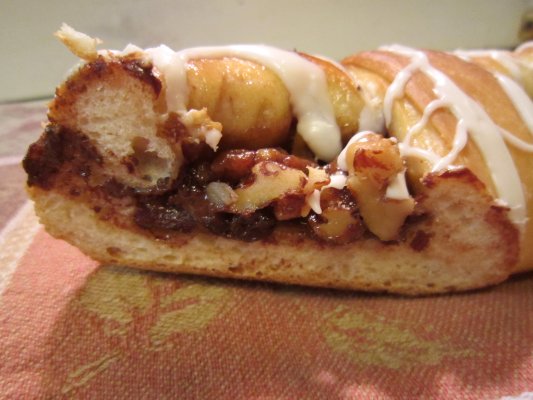 I also made a 100% whole wheat dough to make a cranberry, raisin, walnut version ( I made this one around Thanksgiving):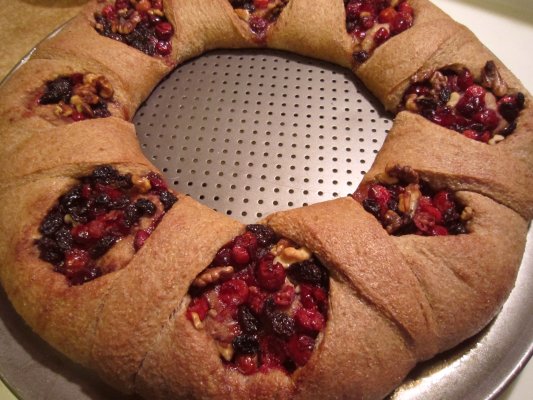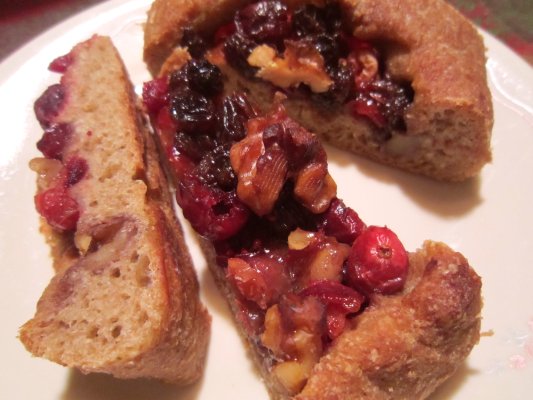 Happy Baking, and a very Happy, Holy Christmas Season to you all!