Sourdough Butter Crumb Banana Bread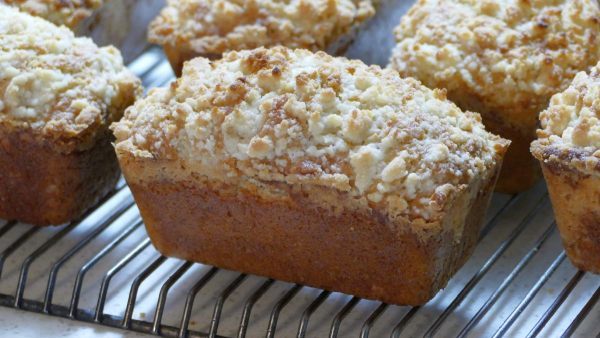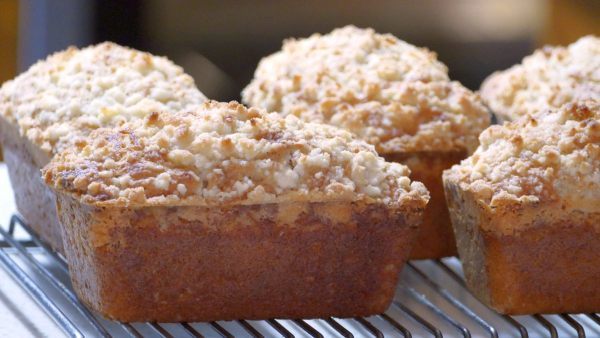 Banana bread is just not quite as good, in this baker's opinion, without the crumbs on top. I find that to be the case for most tea breads and muffins. There is just something about the crumbs that makes people say, "Wow!" In the past, my boys wanted me to make a loaf of  "just crumbs." I think that is like eating the icing without the cake….
Sourdough Banana Bread is moist and delicious. You can add walnuts if you like, I like walnuts, but it seems I am the only one, so my bread is walnut-free (see Instagram photo at the bottom of the page). If I had my way, I would not only add walnuts to the batter, but I would put chopped walnuts in the crumbs as well…. yum! Ah well…
You can also substitute pumpkin puree for the bananas and make pumpkin bread, but I would add more spices in that case.
Another option would be to add Raisins, figs or other chopped dried fruit (will make more batter if you add extras).
Sourdough Banana Bread with Butter Crumbs
All rights reserved world-wide Teresa L Greenway
(makes two 9″x3″x5″ loaves)
13oz (368grams) sourdough starter @ 100% hydration

10oz (283grams) full fat milk (or use canned milk or a milk substitute)

11oz (311grams)- very ripe bananas pureed/mashed (about 2 large or 3 small)

8oz (226grams) sugar

3 large eggs

5oz (142grams) oil or melted butter

1 Tablespoon Vanilla extract

Preheat oven to 350 degrees. In a medium mixing bowl combine the starter, milk, bananas, sugar, eggs, oil and vanilla. Whisk together very well until smooth.
20 oz (566grams) all-purpose flour

.5oz (14grams) salt

1 teaspoon cinnamon

1 teaspoon baking soda

1 Tablespoon baking powder

In a separate mixing bowl combine the flour, salt, cinnamon, baking soda and baking powder. Add the dry ingredients into the wet ingredients just until the two are incorporated. Don't over-mix. Fill two 9"x3"x5" bread pans or dishes about 7/8 full.
Butter Crumbs:

4oz (113grams) sugar

5oz (142grams) all-purpose flour

4oz (113grams) butter

Using your hands, rub the butter and dry ingredients together, until you can press the mixture together in your hands and form some large lumps. Sprinkle the crumbs on top of your banana bread batter, pressing some of the crumbs into the batter, especially around the edges of the pan (I poke some of the crumbs right down into the batter with a spoon or knife).

Bake @ 350F/176C for 50-60 minutes or until a knife blade comes out clean when inserted into the center of the bread. The knife test is more important than the amount of baking time.
Copyright 2019 all rights reserved worldwide
Teresa L Greenway The Baking Network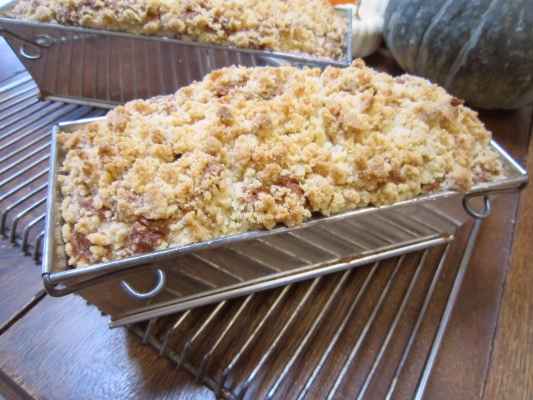 This recipe will make two loaves and uses less sugar and fat as a regular loaf, so if you like sweet bread, you may want to add more sugar.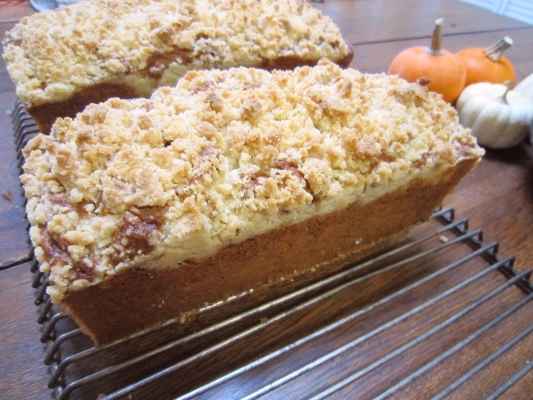 Or use the new small loaf pans that look like this (this formula will make six of the small loaves):
Bake 30 -35 minutes at 350F/176C  for these smaller loaves or until toothpick comes out clean.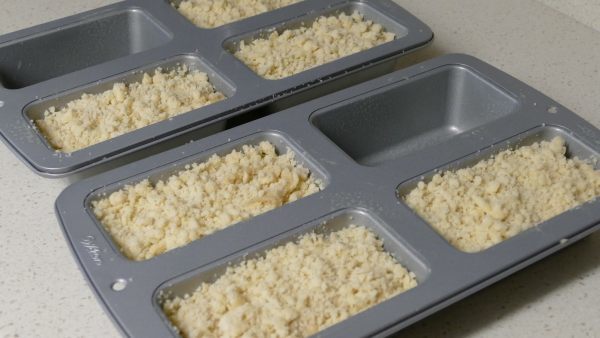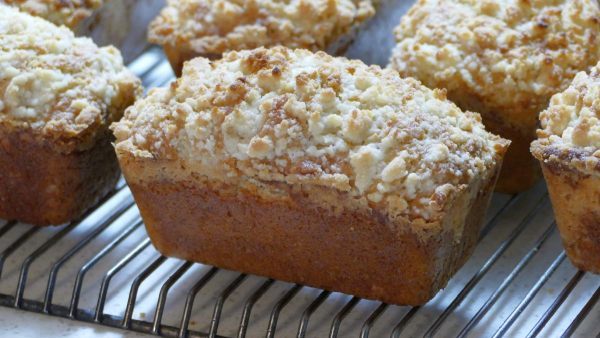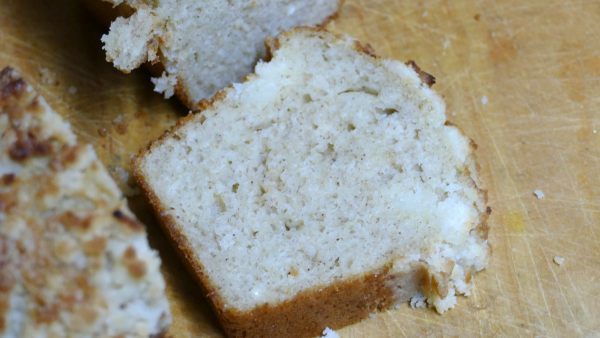 Yummy Banana Bread…. with Butter Crumbs!  Have fun baking… I always do! -Teresa
Sourdough Banana Bread with dates and walnuts added:

Discount offer on Old Fashioned Sourdough Baking Course.  This course has lots of good things for breakfast including a cornbread with butter crumbs, similar to the banana bread above. Click the link to see what else is baking in the course.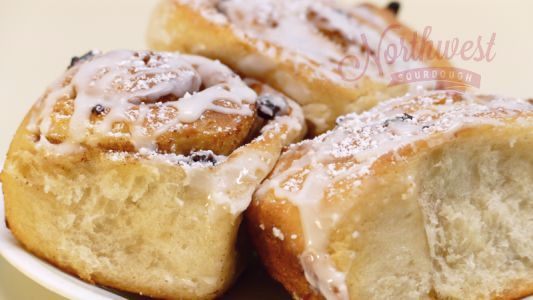 Merry Christmas and Happy Holidays! Teresa